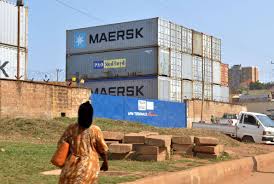 The Kampala City Traders Association has embarked on a campaign to sensitize all Ugandan traders whose containers are held in Mombasa to go for them, after all charges were waived.
More than 3,600 Uganda-bound containers are stuck at the port after they were impounded by Kenya Ports Authority last year for failure to clear various charges.
The cargo was however was granted a full waiver of port demurrage charges in January, but todate, just a few traders have turned up to claim them.
The association spokesperson Isa Ssekito says they have already sent an agent to Mombasa to ease the process but some traders are yet to decide on where or not to claim the goods.
Story by Samuel Ssebuliba