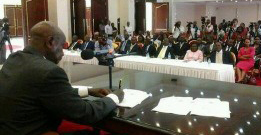 The Uganda Tourism Board will not lose  focus on its mandate.
The boards' chief Executive Officer Stephen Asiimwe says although some western countries have threatened and others actually cut aid to Uganda, efforts to have the country's visibility in tourism are to continue.
The remarks follow US decision to cut funding amounting to Shs. 16 billion that was meant for promoting biodiversity.
The move was in response to the recent enactment of the anti-gay law.
Speaking to KFM Asiimwe said this was unfair further saying it was a sign of double standards on the part of US as he elaborates.