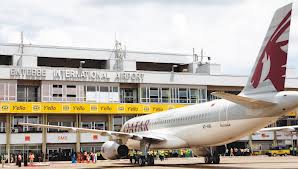 The Civil
Aviation Authority has spoken on an ongoing strike by workers of a company contracted to offer cleaning services at Entebbe International Airport.
Over 120 workers of Guardian Services Limited have been on strike since 8 O'clock this morning.
They are protesting the delayed payment of their salaries and poor working conditions which include lack of protective gear.
The Public Relations Officer of the Civil Aviation Authority Vianney Luggya says CAA is not to blame for the crisis because it fulfilled its contractual obligation of paying GSL for services rendered.
Earlier we spoke to some of the disgruntled workers who claim they have been threatened with dismissal if they dared lay down their tools.
They say they are paid only Shs.130,000 adding that many have also been denied retirement benefits.
A 62 year old man who has worked at the airport for over 30 years is asking government to intervene.
Officials at the company however, remain tight lipped on the matter.
KFM contacted the GSL assistant manager Catherine Nakanyike who refused to comment.
According to KFM's Moses Ndhaye, garbage heaps can be seen around the parking area and the toilets too have not been cleaned and the stench is covering the bigger part of the airport.