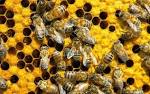 Bee keeping has the potential to raise the country's GDP in the next financial year if prioritized.
Currently the sector employs over 1.2 million people put lacks National Apiculture policy to stream line the funding.
The Executive Director Uganda National Apiculture Development Organisation Dickson Biryomumaisho says the sector has the ability to contribute more than 60 billion it contributes annually.
He says currently bee keeping is done at a small scale in villages without proper regulation and quality control measures.