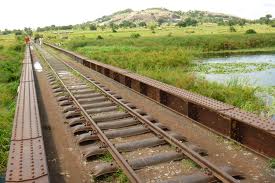 A Chinese firm, whose contract to construct the Eastern part of the standard gauge railway network was cancelled by government, has refuted claims that it was forced to withdraw its suit against government.
China Civil Engineering Construction Corporation (CCECC) was contracted in 2012 by government to construct a 750km standard gauge railway from Malaba to Kampala and Tororo-Pakwach-Gulu-Nimule. However, in August this year, the deal to construct the railway line hit a snag after Works state minister John Byabagambi cancelled an understanding with CCECC to construct the line and handed the project to another China Harbour Engineering Corporation (CHEC).
Legislators on the select committee probing irregularities in the standard gauge railway project tasked Mr. Bai Yang, CCECC Uganda's General Manager to explain whistleblower reports that President Yoweri Museveni, during a meeting with CCECC representatives in October, gave them an ultimatum to take the western line that will run from Kampala to Kasese and Mpondwe in western Uganda or face expulsion from Uganda.
"No one forced us to withdraw the case from court…we went to court because we wanted the MOU to be valid. We received an order from the company President to withdraw the case. He said that it would be better to maintain the bilateral ties with Uganda and China," Mr. Yang revealed to the MPs.
Mr. Yang however expressed disappointment with the negotiating team under the Ministry of Works, whom he faulted for throwing out the company's feasibility study. According to documents availed to the committee, CCECC failed to provide credible, reliable, accurate, technical and financial feasibility study to provide basis to be given the contract.
"The feasibility study we carried out cost us two years of business and spent about 30 billion to conduct it. We have close to 40 years of experience in railway construction. But despite all this, we are open to fresh talks with President Museveni on future prospects in the sector," Mr. Yang said.
The legislators however accused the company of being evasive in its explanations, specifically on the manner in which they got the contract.  They were asked to produce a letter from the President inviting them to Uganda; the feasibility report; contract termination letter and court case withdrawal by close of this week.
Story by Olive Eyotaru