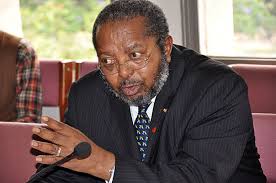 The Central Bank Governor has been dragged to the High Court on allegations of causing government financial loss of over Shs156 billion.
Emmanuel Tumusime Mutebile has been sued by three concerned citizens; Michael Kato, Mathias Kabalega and Bernard Mawanda.
Mutebile is jointly sued with two companies, Haba Group of Companies and Rhino Investments Ltd.
The trio accuses Mutebile of withdrawing the alleged sum from the consolidated fund and paying it to the two companies in compensation without the approval or authorization of parliament as mandated by law.
In 2003 and 2007 the two companies won tenders to re-develop the new Nakivubo road, Kiseka Market and also manage St. Balikudembe and Shauriyako markets.
The companies were also meant to handle the proposed development of the Constitution Square into a modern car park.
However, after KCC cancelled the contracts, the two companies were compensated without approval by parliament.
The plaintiffs contend that the move was illegal and neglect of duty and that Mutebile failed to advice and protect Government interest in the said transactions and he has since failed to recover the funds.
They now want court to compel Mutebile to recover the money and also order the two companies to refund the Shs156bn since the process of transactions was illegal and unconstitutional.