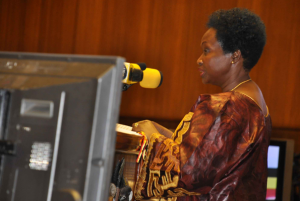 Finance Maria Kiwanuka has noted that the slow implementation of projects has been blamed for the slow external assistance.
Kiwanuka says her ministry is to work vigorously with other government agencies to improve the execution, financing and management of development projects.
She says the agencies will be required to implement projects as required for the country to benefit from external assistance.
She also outlined Uganda's achievements during the just ending financial year saying the country had surpassed MDG goal 1.
This goal is to do with halving the number of people living below the poverty line.
Presenting the 2014/2015 budget estimates, Kiwanuka has also cited an improvement in the quality of life of many Ugandans owing to construction of 830kms of new roads as well as more people connected to national power grid in rural areas.
She has however, decried the slow growth of the economy saying GDP growth was at only 5% instead of the projected 6.2% a year ago due to slow down in performance by manufacturing, construction and financial services.
In order to widen the country's tax base in the next financial year, the government proposed a number of measures such as imposition of a 15% tax on Sports and Pool Betting winnings expected to generate 8 billion.
Incomes on agricultural loans are also to be taxed, while a capital gains tax has been introduced on the sale of commercial properties. Private education institutions are also liable to taxation.
Supplies for animal feeds, computers, salt, milk and dairy products, agriculture machinery will be taxed as well.
Excise duty on petrol and diesel is set to increase by 50 shillings, meaning that each litre of petrol and disel will cost an extra 50 shillings- a measure that is expected to raise about Shs.60 billion.
A liter of Kerosene will cost 200 shillings more in order to raise 15 billion.
A 10% Excise Duty will be levied on Mobile Money Withdraw Fees to generate 16 billion, as well as Excise Duty on Bank Charges and money transfer fees to raise 22 billion.
Sugar prices are also set to go up after a proposal by the Finance minister to increase Excise duty on sugar from 25 to 50 shs .
The budget was read under the theme "Maintain the momentum, Infrastructure for growth and Social Transformation"
Earlier, The Speaker of Parliament Rebecca Kadaga has hailed the election of Foreign Affairs minister, Sam Kuteesa as the new President of the United Nations General Assembly.
Opening the special session at the Serena Conference Centre this afternoon, Kadaga added voice to those who have congratulated Kuteesa on his new appointment.