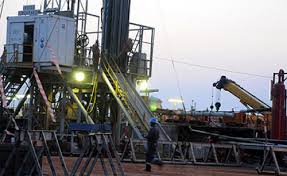 Government is still non committal on the final date it will issue oil production licenses to oil companies.
Addressing a news conference on local content in Kampala, the head regulatory authority at the petroleum exploration and production department, Fred Kabanda, gave a none committal projection on when
they are "most" likely to issue the licenses. "We have had a significant engagement with the companies and soon we hope to finalize soon. That soon is what you want to know. "We shall issue the production license anytime not later than before the first half of the year. Fresh production licenses will be issued
by June 2015," he said.
This is not the first time government has set a possible date for the issuance of production licenses. Last year, Energy Minister Irene Muloni said that by the end of 2014 a production license would be issued. A production license is the last step leading to the final production of oil.This means that a company cannot prepare its field for eventual oil production if it does not have a production license from government.  To get one, an oil company has to submit a field development plan giving the details of how they intend to carry out the production.
To get one, an oil company has to submit a field development plan (FDPs) giving the
details of how they intend to carry out the production. Cnooc is the only company that has so far got production license, awarded in September 2013 for Kingfisher oil field.
Application for production licence are submitted along with Field Development Plans (FDPs) and Petroleum Reservoir Reports (PRRs) for each discovery as stipulated in section 71 of the Petroleum
Exploration Development and Production Act 2013. The Minister is required to evaluate these documents prior to award of a production license. The process of evaluation the submitted FDPs take between six months and two years at most. Tullow Oil was the first to submit the first
FDP over three years ago but they have never received a production license.
Total E&P have so far submitted 5 FDPs namely Ngiri Dec 2013, Jobi Rii
June 2014, Jobi East, Gunya and Mpyo Dec 2014. None of those applications have received a production license.
Government has been criticized by oil actor for stalling the oil production process by delaying the issuance of production license.
However in an email to the Daily Monitor late last month, the PEPD Commissioner, Ernest Rubondo, through his communication department, said rushing into issuing production licenses without getting all
facts right will on boomerang against the country.
"It is not recommended to rush into production without clear understanding of the reservoirs to be produced as this can lead to inefficient production and ultimately increased development and
production costs.
"It may also lead to sacrificing a profitable future while settling for a "less profitable" but immediate cash inflow. Some of these challenges have been registered in other parts of the world," he said.
Mr Rubondo further explained that the award of a Production License is based on presentation of an optimal production strategy that entails a good technical understanding of the reservoirs and planning
for the required infrastructure.
"This is especially important in countries like Uganda where oil and gas has been discovered in fields which are tens to hundreds of kilometres apart.
"Where production licences have not been issued, discussions are being undertaken with the respective operating companies and they are well aware of the aspects which are yet to be agreed," he said.
Story by Isaac Imaka