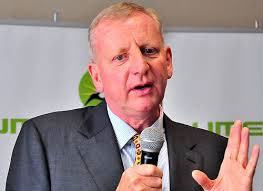 Government is set to table an amended law on energy to among other things check power theft.
Addressing journalists at parliament this afternoon, the state energy minister Peter Lokeris said the current law is weak and not punitive enough.
He says government wants to strengthen the law and come up with stringent punishments to deter perpetuators like is the case in neighboring Kenya.
The management of power distribution company UMEME says it is committed to increasing the number of Ugandans accessing electricity across the country.
Currently only 18% of the country's population is connected to the national grid.
Appearing before the national economy committee of parliament, the managing director UMEME Charles Chapman said they are working to ensure this figure increases to 40% in the near future.
He adds that the company is working to reduce losses to below 15% by 2018.