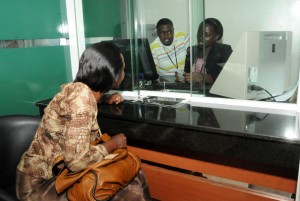 The growing gap between imports and exports standing at $3 billion (about Shs7 trillion) has tilted Uganda's Balance of Payments (BoP) casting doubt on the country's sustainable growth, according to the central bank.
Central bank's data released yesterday indicate that Uganda's import bill has been growing by about $5 billion (about Shs11 trillion) compared to export earnings of $2.4 billion (about Shs5 trillion) annually.
Addressing the press in Kampala yesterday during the release of the February Central Bank Rate, Mr Emmanuel Tumusiime Mutebile the Bank of Uganda governor, told journalists that the country's negative BoP was still a source of risk for inflationary pressure and foreign exchange volatilities.
Threatening growth
He said: "We can no longer finance our deficits using export earnings, inflows from donors, private capital inflows (remittance) and other sources," adding, "this is likely to increase the cost of production, which will in turn slow economic growth."
Bank of Uganda yesterday downgraded its Central Bank Rate – the rate at which it lends to commercial banks, by 1 percentage point to 22 per cent for February down from the January's 23 per cent.
The downward revision comes at a time of growing criticism of the central bank's policies that analysts say are likely to hurt economic growth. The central bank early last year introduced a tight monetary policy that sought to curb inflation which in October had peaked to 30.4 per cent before relaxing to 25.7 per cent in January this year.
The central bank had indicated that the rapid growth in private sector credit had driven inflation to new highs thus there was a need to mop up excess liquidity using tough policy actions like the CBR.
Uganda on average exports about $200 million (about Shs4 billion) compared to an import bill of $400 million (about Shs934.001 billion) depending on government and private sector performance evry month.
Reacting to the matter Prof. Augustus Nuwagaba of Makerere University told Daily Monitor, the government should enhance the export sector to save the country from the continued growth in the BoP deficit. "Good export strategies and import substitution will save Uganda from importing petty goods like door shutters, which can be manufactured locally," he said.
mokecth@ug.nationmedia.com