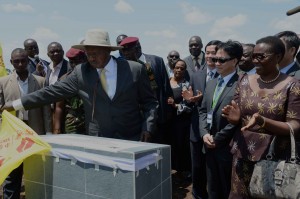 Consumptive economies cannot fast track development in a country.
President Yoweri Museveni says Uganda continues to lag behind due to focus on consumptive budgeting in the short run limiting funds towards economic development.
Speaking at the ground breaking ceremony forthe 600 MW Karuma Hydro power plant, President Museveni said government has been able to cut down on unnecessary expenditures in the electricity sector for long term investment.
He reveals that government is going to partner with Sinohydro Corporation to procure 85% funding, with a soft loan from the Exim Bank of China and the Uganda Government will provide the remaining 15%. 
Two other Chinese companies, Gezhouba and China International Water and Electric Corporation will similarly take on Ayago and Isimba hydropower dams.