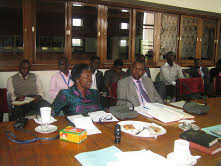 Kiwanuka had appeared before the committee to answer queries relating to investigations into the management of the pension fund.
The MPs including Alex Ruhunda and Anna Maria Nankabirwa among others questioned the delay in approving the appointment of  Edgar Agaba as Managing Director, Patrick Ayota as deputy and Richard Wabwire as Company Secretary.
Kiwanuka however explained that government needs to ensure that the top management appointed is competent to handle the trillions of money in the fund.
Meanwhile, Finance Minister, Maria Kiwanuka has defended NSSF's purchase of shares in electricity distribution company UMEME.
Responding to allegations that her ministry and NSSF disregarded the advice of the Solicitor General not to acquire the shares worth 69 billion shillings, Kiwanuka said the fund is reaping from the investment.
"The NSSF is planning to invest in long term projects in order to get returns that' will be beneficial to its members", Kiwanuka adds.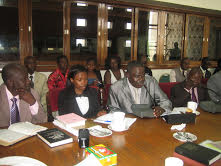 Earlier, the Central Organization of Free Trade Unions (COFTU) demanded that NSSF sells off its stake in power body distribution company UMEME.
While appearing before the same committee, the union's legal head, Peninah Tikamwesiga said the right legal procedure was not followed in acquiring the shares.
She says the board chairman Ivan Kyayonka should also resign over alleged failure to manage transaction well.
COFTU denied knowledge of the deal after NSSF managing director alleged that the board has been consulted.
The NSSF invested 34 billion shillings in May, 2014 which increased its shareholding to 14.3% with a total investment of Sh 63bn.