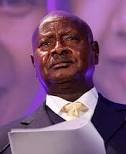 President Yoweri Museveni has asked the US Government to help in developing Africa's infrastructure potential like railway, electricity and roads in order to enhance its economic development.
While meeting the US delegation led by the US Ambassador to Uganda Mr. Scott Delisi, the president said the US government should focus on infrastructure development and security to help Africa achieve economic transformation.
He observed that the US Government could undertake construction of the railway line that will link East Africa to Kisangani through Ethiopia to Egypt to ease transportation of goods for better trade.
In response, the US Ambassador to Uganda Scott Delisi said he would write to President Barak Obama about the outcome of the meeting for better implementation of the proposed projects in Africa.