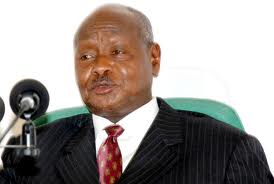 In order for investors to compete favourably on the market, government has prioritized infrastructure development such as electricity, construction of roads, railway lines and ICT that greatly impact on the cost of doing business.
This has been revealed by President Yoweri Museveni while meeting the Chairman and President of China Communications Construction Group Chen Fenjian.
The firm is responsible for the construction of the Entebbe-Kampala Highway which will link the town of Entebbe in Wakiso to Kampala.
The construction of the highway which is already underway is estimated to cost Shs1.19 trillion.
Of this, Shs 875 billion is a loan from the Exim Bank of China at 2% annual interest, while the remaining Shs 315 billion will be provided by the Government Of Uganda.
Government will provide another Shs 100billion to compensate land owners along the route of the highway.
Earlier the President met and held talks with the Chairman and President of the Export-Import Bank of China Li Ruogu, who paid a courtesy call on him at State House Entebbe.
The President and his guest, discussed details of the financing arrangement for 600 MW Karuma Hydropower dam and the 188 MW Isimba Hydropower Dam and other issues of mutual interest