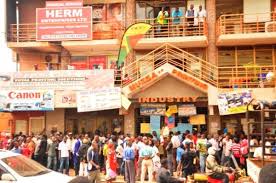 The police have once again fired teargas to disperse rowdy traders who are protesting continuous power outages along Nasser road in Kampala.
Our reporter at the scene tells us that the traders had mounted roadblocks and lit fire blocking traffic.
The police however swung in action sealing off the road and forcing traders to run away.
The road is still closed as police continues to battle traders who are demanding that power be switched on by electricity distribution company UMEME.
Last week, the traders demonstrated over the same.