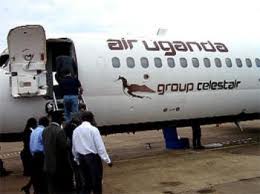 Ugandans will have to wait a little longer to have a national airline.
Calls for government to revive Uganda airlines have been re-ignited by the indefinite suspension of the operations of Air Uganda.
Air Uganda which announced the suspension yesterday was largely recognized as the national carrier, following the collapse of Uganda Airlines in May 2001.
The suspension comes a month after its Air Operator's Certificate was withdrawn by the Civil Aviation Authority over non-compliance with aviation safety standards.
This not only leaves Uganda without the semblance of a national carrier but also has an impact on the fares on the routes where Air Uganda has been operating.
However, while presenting the budget for the financial year 2014/2015, finance minister Maria Kiwanuka made it clear that revival of national airline was not a priority.
Air Uganda joins the list of other airlines that have collapsed over the years including East African Airways and Africa One which was a privately owned pan-African airline.
It was initially based in Entebbe with aircraft wet leased from Africa One Holdings, registered in Ireland.