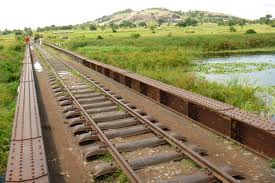 Opposition members of parliament want the Works and Transport state minister probed over the 20tn railway deal.
They have asked the Speaker of Parliament to institute a committee to investigate the role of John Byabagambi and other officials in the procurement process of the contract for the controversial standard gauge railway.
The MPs including Theodore Sekikubo, Wilfred Niwagaba and Abdul Katuntu have issued a three day ultimatum to the speaker have the matter brought before the floor of parliament for further debate.
Last month the Government signed an agreement, giving away the lucrative deal to upgrade and expand Uganda's railway network to standard gauge, from Malaba to Kampala and Bukasa port, to a Chinese firm China Harbor Engineering Company (CHEC).
Government had earlier signed a memorandum of understanding with China Civil Engineering Construction Corporation for a 4bn dollar deal but was later terminated in favour of another Chinese company CHEC at a cost of 8.5bn dollars raising the cost of the project by over 4bn dollars.
Two Chinese companies– CHEC and state-owned China Civil Engineering Construction Corporation – have been involved in a fight for the deal.
CCECC had earlier in 2012 been given the deal, which was later cancelled by the Government.
According to the agreement, CHEC will work closely with the UPDF Engineering Brigade and also construct a polytechnic school in Uganda for continuous training of army officers in technical and engineering skills.
The East African Community member states have set March 2018 as the target for the upgrading of the regional railway network to standard gauge system.