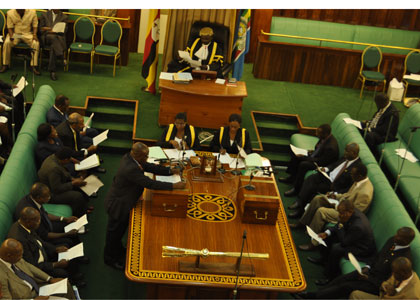 Parliament has today passed the reinstatement of a 200 shillings excise duty on Kerosene.
Last week, President Yoweri Museveni returned three bills, including Excise Duty Bill 2014, Finance Bill 2014 and Public Private Partnership bill to Parliament, particularly opposing the House decision to scrap a 200 shillings tax on a litre of kerosene.
In its report to Parliament, Finance committee member, Henry Musasizi explained that they had decided to reinstate the tax, which they had earlier scrapped, which will in turn raise about 68 billion shillings in revenue for government.
During debate, several legislators were divided, contrary to the earlier debate last month where the motion to scrap the tax was overwhelmingly passed.
Some of the MPs who supported the reinstatement of the tax included Janet Museveni, George Ecuma, Florence Mutyabule and Fred Ebil.
Women rights activists under Forum for Women in Democracy have also spoken out, condemning the MPs' actions.
The Program Manager Sophie Kyagulanyi says the president should explain his demands for re-introduce excise duty on kerosene tomorrow during Independence Day celebrations.
On the other hand, MPs Theodore Ssekikubo, Patrick Amuriat and Haruna Kasolo debated against the tax.
Other taxes levied include an introduction of a 10% levy on bank transactions like withdrawal fees, ATM fees and ledger fees.
Also 50 shillings will be levied on each kilogramme of sugar