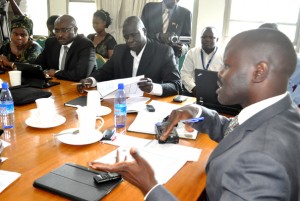 Members of Parliament (MPs) on the Oil Gas Forum have agreed separate party politics from oil and gas issues. This was reached  while reviewing their activities.
The MPs said that the oil sector belongs to all Ugandans and therefore handling the matters there politically will be depriving the citizens their rights.
The legislators including Michael Mawanda, Alice Alaso, Winfred Kiiza, and Simon Mulongo among others said that they do not want a repeat of what happened during the debate on oil bills last year.
They said that they have to remain together and put government on pressure despite the growing political interference from their respective parties.
Meanwhile, the forum's acting chairman  Micheal Mawanda has asked members to take keen interest in the finance bill currently under review by government.
He said the finance bill is key to the oil sector and so it must be handled well.
He says the processes that are being followed by the ministry of finance are not clear which is why they have failed to come up with a final draft.
Mawanda also calls upon his colleagues to pressurize government to come with an independent bill that will help in controlling finances generated from the oil sector.