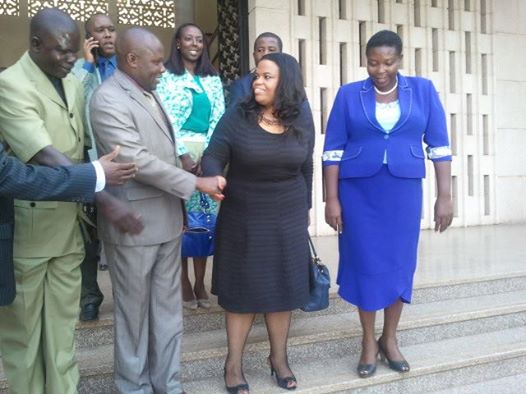 American lobbyist Rosa Whitaker has denied reports that she was bribed to front a Chinese company to construct the Standard Gauge railway line in Uganda.
Whitaker appeared before the committee yesterday where she told MPs on the select committee investigating irregularities in the project that she had approached Chinese Harbour Engineering Corporation (CHECL) to take part in the construction of the railway.
Whitaker who was accompanied by two officials has met with four members of the committee including Maxwell Akora, Ongalo Obote and Susan Amero.
The meeting was closed to the media however the committee chairperson, Kafeero Ssekitoleeko told journalists later that Whitaker also denied reports that she was paid by CHECL to construct a training school for the UPDF in exchange for a kickback. Whitaker on the other hand refused to speak to the media after the meeting.
The committee has so far met several witnesses including president Yoweri Museveni and is expected to present a report on January 15th.
The committee was instituted after MPs Theodore Ssekikubo (Lwemiyaga), Barnabas Tinkasiimire (Buyaga West), Wilfred Niwagaba (Ndorwa East), Paul Mwiru (Jinja Municipality East, FDC) and Abdul Katuntu (Bugweri, FDC) told a news conference at Parliament on August 29 that the contract award process was marred by "bribery."
The MPs claim that Ms Whitaker influenced the procurement of the Chinese company in a flawed process, which was vehemently refuted earlier by the Director of the Government Media Center Ofwono Opondo
Ssekikubo said China Civil Engineering Construction Corporation, whose contract was cancelled recently in favour of CHECL, had offered to build the same railway at $1.7bn. He said with CHECL, the cost has now dramatically shot to $8bn about (Shs 21trillion)
President Yoweri Museveni told journalists at State House Entebbe  earlier that all government officials implicated in the SGR scam will be prosecuted.
Story by Olive Eyotaru