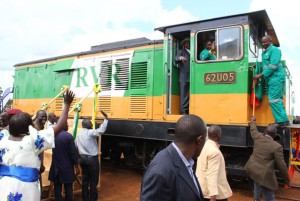 Workers of Rift Valley Railway are back to work.
The Uganda Railways Workers Union and management of Rift Valley Railway have signed a memorandum of understanding to return to work, days after they laid down their tools.
In a meeting held between the workers and management, it was agreed that there will be salary increment for workers effective July 1st, and all fired workers reinstated on the payroll.
The chairman-general of National Organisation of Trade Unions, Usher Wilson Owere, who attended the meeting, says RVR should ensure that it makes good of its promise to the workers.