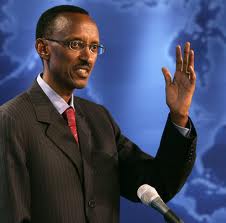 Rwanda's president Paul Kagame is today expected in the country to discuss Uganda-Rwanda trade relations
Kagame is expected to meet president Museveni to discuss solution on how to eliminate non trade barriers among others
Last year's forum that was held in Kigali exposed a need for information on opportunities available, harmonization of taxation and regulatory frameworks and trade linkages.
The forum, hosted in partnership with Uganda Revenue Authority, is running under the Theme, accelerating regional trade and investment
The forum is expected to come up with solutions to enhance trade and investment, provide an opportunity for private sector to explore areas of potential investment, to harmonize policies affecting cross border trade, to eliminate any existing non-tariff barriers among others.
Uganda has emerged as Rwanda's leading trade partner with 2013 trade statistics indicating that Uganda's exports to Rwanda were worth over 200 billion shillings.