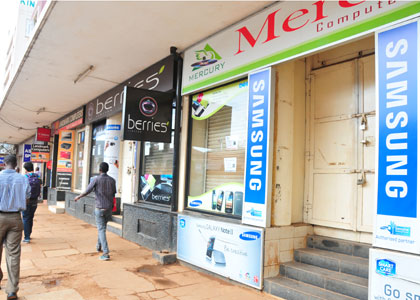 The traders have resolved to stretch the strike until Monday next week.
They had earlier called a three day strike in protest of the implementation of the pre-import inspection levy, but this has changed after a meeting held this morning.
A meeting chaired by the chairman Everest Kayondo has resolved the traders keep their shops closed until Monday when they expect to meet the trade minister and service provider.
According to Kayondo, all hope is not lost and there is still room for dialogue.
He says that they are still hoping that parliament will halt the exercise after minister Amelia Kyambadde presents a formal statement on the matter before the house this afternoon.
The police on foot patrol and patrol vans commanded by Andrew Felix Kaweesi, the Kampala Metropolitan Commander are seen combing the now deserted streets in down town to avert any form of chaos.
Meanwhile, as the traders continue with the strike street vendors seem to have taken advantage of the situation to sell their merchandise on the streets.
Last year, KCCA banned street vending citing need to keep the city clean