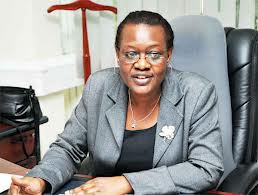 Chinese company CICO, which was suspended from the botched Mukono-Kyetume –Katosi road over contract illegalities has run to the Inspector General of Government Irene Mulyagonja pleading for clemency.
In a letter dated November 10 to the IGG, the company said was willing to cooperate.
The development comes less than a week after the company ran to the Nakawa High Court and secured an order blocking the Uganda National Roads Authority from implementing the IGG's earlier orders.
IGG Mulyagonja two weeks ago directed UNRA to open a fresh procurement process for a new contractor on the mud-ridden 74km Mukono-Katosi road stretch and made further orders "not to entertain any bid by CICO in the new procurement and not to make any payments to the company.
The IGG acknowledged receipt of the letter but said the company was playing double standards because it had earlier on sough legal action against her directives, but  Court should examine the mischief behind the suit and who is actually behind it.
Lawyers representing CICO, of Muwema & Mugerwa advocates, requested for more time to generate a response.