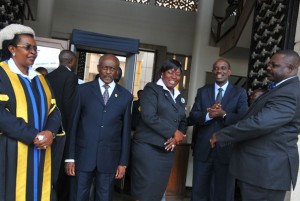 A new report shows that Uganda places the least restrictions in movement of capital in the region.
The East African Common Market Scorecard 2014 shows that Uganda, compared to Tanzania and Burundi has fewer restrictions in line with the protocol.
The protocol provides for free movement of goods, services and labour within the East African region.
According to World Bank representative in Uganda, Moustapha Ndiaye, Uganda also has fewer measures in its laws that are inconsistent to the protocol in the services sectors compared to Rwanda, Kenya and Tanzania.
East Africa Community Secretary General, Dr. Richard Sezibera says the scorecard, the first of its kind will foster peer learning and accelerate implementation of our commitments to create a single investment destination.
Sezibera says the private sector should be supported to deliver benefits to consumers.