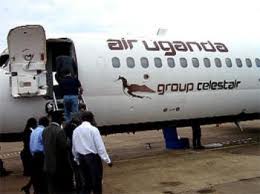 Government has embarked on the process of procuring a national airliner.
Since the collapse of Uganda Airlines Corporation, the country has been relying on players in the private sector to run the aviation industry.
The Minister for Works and Transport, Eng. Abraham Byandala says that the matter is to be discussed in Cabinet with possibilities of turning Air Uganda into the national carrier.
Byandala says discussions between government and the airline owners are ongoing to reach an agreement on the terms, before a formal pronouncement can be made.
Recently, operations of Air Uganda were suspended by Civil Aviation Authority over safety measures.