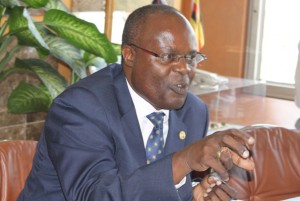 Bank of Uganda has warned that the effects of the South Sudan conflict on Uganda's economy will be felt soon.
According to the Deputy Governor Louis Kasekende, the actual effects are expected to be felt mid this year after getting concrete figures from the relevant bodies.
He says that this means that Ugandan's are likely to feel the pinch through inflationary pressures, low revenue collections among other things.
Addressing a news conference, Kasekende also maintained that the South Sudan conflict is likely to have adverse effects on the economy if it persists.
According to the Ministry of Trade and Industry, South Sudan is one Uganda's biggest export destinations in the region.
According to Bank of Uganda, at least 200 million dollars in remittances was collected in 2012.