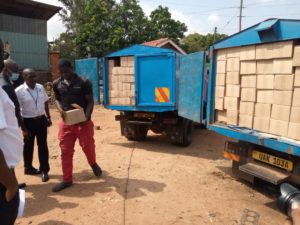 By Ritah Kemigisa
The Uganda Revenue Authority (URA) has confiscated over 2000 unstamped products majorly gins and Waragi.
The authority says the products were from Bee De Eff (BDF) Spirits Limited, makers of Sports gin, Spark Waragi, and Captain Cherry which were distributed in the night.
The URA Acting Assistant Commissioner Public and Corporate Affairs Ian Rumanyika, says the confiscated products are harmful to consumers health and also possess unfair play field for compliant tax payers.
"It has also come to the Taxman's notice that some manufacturers and importers have resorted to forging these stamps from printing facilities but these will be countered by the stamp verifier technologies," said Mr Rumanyika.
Rumanyika has now called upon the public to look out for products that are not stamped for they could pause health and safety challenges to their bodies.
He says BDF Company is to be fined Shs 50m.
Digital Tax stamps were operationalized in November 2019 where six products namely beer, soda, water, wines, spirits and cigarettes were gazette by the minister to apply for digital tax stamps.
The authority has meanwhile revealed that they have recovered over Shs3.5bn in revenue as a result of netting 33 Digital Tracking Solution (DTS) flouters.