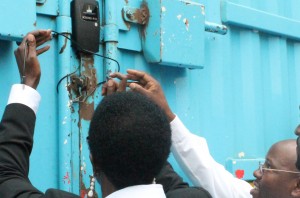 Just hours after its official launch, the Uganda Revenue Authority has initiated talks with its Kenyan counterpart to have the Electronic Cargo Tracking System installed at the Mombasa port.
This morning, the authority unveiled a new electronic tracking system that monitors goods transiting through Uganda from Mombasa port to cut down on transit time and in essence reduce the cost of doing business.
According to the authority, currently the system's coverage stretches only from Uganda's eastern borders to Kampala.
The Commissioner General of the Authority Allen Kagina explains how the device works.
The authority has already procured 1,500 tracking devices for each cargo track on transit from the border.