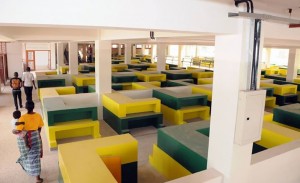 Traders at Wandegeya market are asking Kampala Capital City Authority (KCCA) to extend their grace period for payment of monthly dues because of low sales.
KCCA had exempted the traders from paying rent for the period of the first three months which expires on April 24th.
Under the new monthly rates, the smallest operating space costs sh40, 000 while the biggest stall goes for Sh250,000.
The agreement grants each of the registered traders a 10 year renewable lease to operate in the market.
The Sh22 bn market has a banking hall, day care center, cold rooms, clinics, parking lots and fire detection systems, among other facilities.