By Paul Adude.
ENTEBBE: Over the weekend hundreds of fans of 933 KFM thronged one of Entebbe's favorite night Clubs, Knight Riders for the monthly end of month KFM listeners party.
The show started off with performances from Entebbe's upcoming  artistes that included Ruddy Face, Billionaire, and African Messiah. They entertained the revelers before the night's surprise guest artiste, dance-hall sensation Bennie Gunter stepped on stage at about 1 am and lit the night up with hits like Commando, Sekkle Down, Watto and many other songs to the delight of the fans.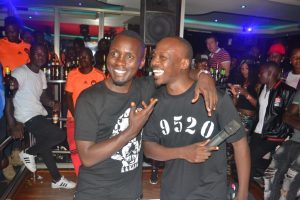 The night saw one of KFM fans, Fizzy, celebrate her birthday with her favorite presenters and other fans who showered her with a few drinks.
The fun went on till early morning hours.
The K-Nite happens at at Knight Riders, Entebbe, every last Saturday of the month.