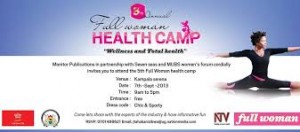 It's here again and this time it's bigger and better!
The 5th edition of the annual Full Woman Health camp is on this Saturday at the Kampala Serena Hotel.
This year, the event will run under the theme wellness and total health.
According to the Monitor Publications Cooperate Affairs officer Jackie Tahakanizibwa, this year's health camp is mainly focusing on nutrition
The annual Full Woman Health Camp is part of the Monitor Publications corporate responsibility projects seeking to improve the well-being of Ugandans.