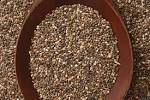 Eating seed foods can help boost ones intake of compact nutrition.
According to senior nutritionist Dr. Grace Nambatya, the most important nutrients are found in seeds because these have all that it takes to bring up a plant.
She adds that these seeds can also help in cases of hormonal imbalances and are also a source of energy.
These vary in usefulness but she specifically cites one of them called Chia also referred to as king of seeds because it also contains the omega oils.
Chia seeds are also popular for weight loss.  "They reduce food cravings by preventing some of the food that you eat from getting absorbed into your system", Dr Nambatya explains. She adds that the blocakage of calorie absorption makes them a greater diet helper.
They are the richest plant source of Omega-3 needed to protect against inflammation and heart disease. Chia seeds are also great for athletes because the gel can hydrate the body.
And, "because chia seeds slow down the speed at which our bodies convert carbohydrates into simple sugars, studies indicate that they can control blood sugar", adds Dr. Nambatya.