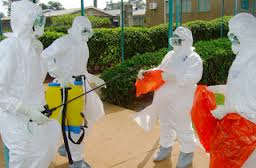 The outbreak of Ebola in West Africa will take at least six months to bring under control, the medical charity Medecins Sans Frontieres (MSF) says.
Speaking in Geneva, MSF President Joanne Lui called for strengthened international co-ordination led by the World Health Organization (WHO).
Earlier, WHO said the scale of the outbreak appeared to be "vastly underestimated".
It said that "extraordinary measures" were needed.
The epidemic began in Guinea in February and has since spread to Liberia, Sierra Leone and Nigeria.
So far, 1,069 people have died.