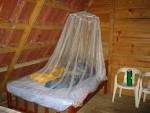 The ministry of health will on Saturday commence the distribution of long lasting insecticide treated mosquito nets.
This will be done in wakiso district and Kampala.
Over 4.4 million people have registered to get the nets.
The state minister for primary health care Sarah Opendi says the distribution will cover all registered households.
One net will be shared by two people in each household, while households with a child under the age of five, or with a pregnant woman will get an extra net.
Opendi says despite the high number some households were not registered due to the absence of parents.