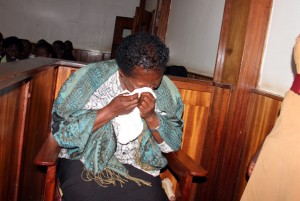 The story of the nurse who allegedly infected a child with HIV is likely to promote stigmatization of patients, according to the Uganda AIDS Commission.
Addressing the media today, the commission chairman Prof Viand Natulya said that more people are now likely to shy away from voluntary counselling and testing.
Prof. Natulya also noted that way the whole case has been handled is likely to hold back the fight against HIV.
He says that since the story broke early this year, many people known to be living with HIV have been exposed to serious stigmatization both at work and in their respective communities.
Last month Rosemary Namubiru, a nurse said to be infected with HIV made headlines in the media after she was reported to have drawn her blood and injected it into a two year old baby.
She is currently on remand at Luzira prison.