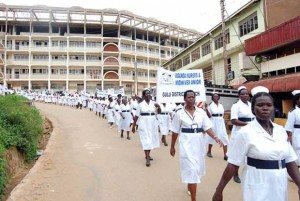 Government must invest in health workers for better service delivery.
The call comes as Uganda prepares to join the rest of the world to mark the Nurses and midwives day that falls on the 12th of May.
Secretary General Nurses and Midwives union, Topista Kabalisa says there is little to celebrate with the looming health crisis facing Uganda's health work force and health system as a whole.
The celebrations kicked off today with a cleanup exercise at Mulago hospital by Nurses and midwives.
Uganda has a nurse:patient ratio of six per 100,000 against the World Health Organisation recommended ratio of 2.5 per 1,000.