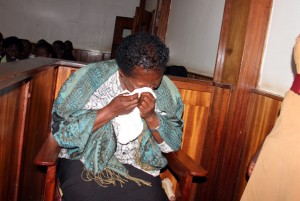 The nurse accused of exposing an infant to HIV has been sentenced to 3 years in jail after she was found guilty of criminal negligence.
The 64 year-old-nurse has been accused of exposing a child to HIV while administering an injection.
Namubiru is said to have pricked her finger and used the same cannula to inject the child who had been taken for treatment.
In her ruling, Buganda Road Court Chief Magistrate Olive Kazarwe said that Rose Namubiru is a health care professional who has served for more than 30 years and ought to have known that a cannula cannot be used on more than one person.
Kazarwe also said that Namubiru knew her HIV status and should have been more careful while on duty.
The magistrate based her decision on the fact that Namubiru is of advanced age, and has no previous criminal record.