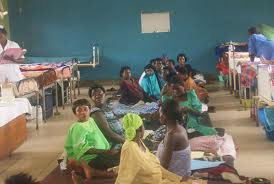 The National Medical Stores has finally responded to the cries of cancer patients.
This comes a day after the Uganda Cancer Institute made stunning revelations that up to five people die every day due to lack of cancer drugs.
KFM visited the facility this morning and many patients were found sitting outside waiting for treatment in vain.
We also spoke to one of the patients; an 80 year old woman who had been at the institute for two months waiting getting help.
Safina Nakanwagi, a resident of Kakira in Jinja town said she had even run out food and is living on handouts from well-wishers.
According to the director of the institute Dr. Jackson Orem, all patients were required to buy drugs from private drug shops outside the facility.
Dr. Orem explained that since cancer is a complicated disease which requires a combination of expensive drugs for treatment, many patients who could not afford them were left stranded.
However, this evening the institute's Public Relations Officer Christine Namulindwa confirmed that an assortment of drugs had been delivered by the National Medical Stores.
The number of cancer patients is said to have almost tripled in the past two years, affecting the institute's annual budget.
Last year the Uganda cancer institute was allocated 7bn shillings covering drugs for 34,000 patients.
According to statistics from the institute, 10,000 patients were recorded in 2012, in 2013 the number grew to 15,000 and to date the figure stands at 34,000.