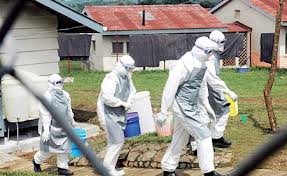 The lack of funds is crippling the screening of Ebola in Busia.
Authorities at the border district are grappling with funds to facilitate screening of travellers especially at the main entry points.
The Busia Resident District Commissioner Hussein Kato Matanda tells KFM that the district does not even have emergency funds.
This comes as the ministry of health continues to monitor the visiting Guinea National football team for possible Ebola cases.
The ministry's permanent secretary Dr. Asuman Lukwago tells KFM that the move is meant to reduce the risk of importing Ebola as Uganda prepares to play against Guinea in an Africa Cup of Nations Qualifiers game at Nambole stadium on Wednesday.
Guinea is one of the western African countries affected by the Ebola outbreak that has so far claimed about 2,100.