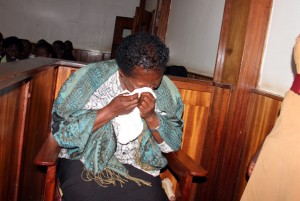 The hearing of a case in which a nurse is alleged to have infected a child with HIV/Aids has been adjourned to February 19th.
This afternoon court heard from police detective Richard Wekuyo, who headed the search team at the accused nurse's home in Sseguku along Entebbe Road.
The ditective attached to Wandegeya police station said that they discovered empty tins of ARVs in Rosemary Namubiru's home which clearly indicated that she was infected with HIV.
This is the 4th whiteness to testify in this case after the child's mother, and two medical officers.
Namubiru is alleged to have committed the offence on January 7th 2014.
Now the Buganda Road Court Chief Magistrate Olive Kazarwe has pushed the case to 19th for further hearing.