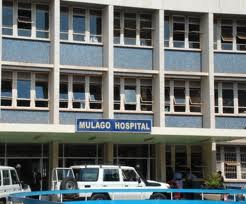 Mulago hospital management has dismissed the story of a couple claiming that its baby was exchanged for a dead one as stage-managed.
This is after one Fred Sunday and his wife Province Atwongire claimed that their baby had been exchanged for a dead one after she gave birth.
However Mulago hospital authorities have this afternoon tabled documentary evidence before journalists showing that the couple lost its baby at home and was only referred to Mulago hospital to save the mother's life.
The media was today awash with news about a one Fred Sunday and wife Province Atwongire who were allegedly given a dead child insisting that their baby was born alive.
Mulago hospital director, Dr. Byarugaba Baterana blames everything on the father of the child who decided to take way his wife without a discharge form.
Byarugaba says the couple has hidden motives and asks the public to disregard their allegations.
We also spoke to the couple and some of their relatives who insist that their baby was indeed swapped.
Meanwhile results from the DNA tests carried out this afternoon are expected soon.
Earlier today, a team of medical workers and human rights activists stormed Mulago hospital demanding an explanation from the management regarding the baby swap scandal.
The team led by the Center for Health Human Rights and Development's Nakibuuka Musisi challenged the hospital to come out and explain to the nation how such an incident could happen.
Story by Diana Wanyana