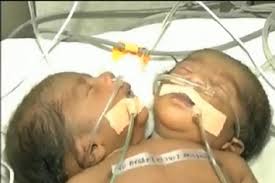 The conjoined twins born in Soroti over a week ago are receiving treatment at Mulago hospital.
According to Dr. Ivan Lumu the babies who are joined from waist with each facing opposite direction are in a stable condition. "The babies share the lower end of the back bone", Dr. Lumu adds.
He explains that the female twins delivered through a caesarean section did not have a normal anal opening so special holes have been created on the babies' abdomen to ease the passing of stool, through a procedure called emergency bowel diversion.
The doctors are now carrying out tests before a decision can be made regarding an operating to separate them.
The babies were born to Esther Akello and Dennis Ojagwo, residents of Soroti Municipality.