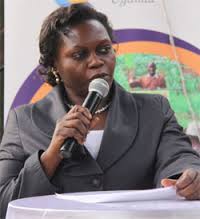 Uganda has officially been declared free of the Marburg epidemic.
The announcement has been made by the State health minister Sarah Opendi during a news conference at the Uganda Media Center.
Opendi said that the Marburg outbreak in the country has been completely controlled.
The epidemic was declared on 4th October 2014 after a patient died of the disease at Mengo hospital in Kampala.
A total of 997 people have since been followed, tested and discharged from the isolation centers.
The disease that claimed a life in September is caused by a virus and is spread through direct contact with wounds, body fluids like blood, saliva, vomitus, stool and urine from an infected person.
A person suffering from Marburg presents with sudden onset of high fever with a headache, vomiting blood, joint and muscle pains and bleeding through the body openings