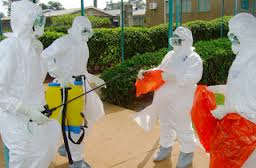 Ugandan health officials are on high alert after the DR Congo confirmed cases of Ebola.
Congo Health Minister Felix Numbi confirmed that tests on two people had confirmed the disease in Equateur province, where 13 had already died.
Now the permanent secretary of the Ministry of Health Dr. Asuman Lukwago says health teams have already been sent to the border for thorough screening of Congolese crossing into the country.
He says the ministry has already sent a delegation to the capital Kinshasa to strengthen surveillance prevent the disease from further spreading into Uganda.
The country remains on high alert with isolation camps already in place at Entebbe airport and Mulago hospital.
Ebola has already claimed over 1, 427 lives in West Africa in Guinea, Sierra Leone, Liberia and Nigeria.