SHARING THE FUN: It is 11 years since she started doing comedy, and Tindi has found a family in Fun Factory. She shared her life and career plans with her fan, Claire Mbabazi.
When did you join comedy?
In 2004 with Theatre Factory which is now Fun Factory.
You have done comedy for 11 years, why is Kansiime (Ann) going far and you guys are stuck in one place?
Everyone has a different direction and she is really marketing herself. My interest is not in travelling as I have a lot of responsibilities. I am a single mother so I have to take care of my children as well as other engagements. Besides, even Herbert Mendo (Sevo) is going places, Richard has returned to music, I do emceeing and radio.
I heard you were dating Richard at some point. Is this true?
I have never dated Richard. Whatever you hear is from 'Byakuyiya' primary school.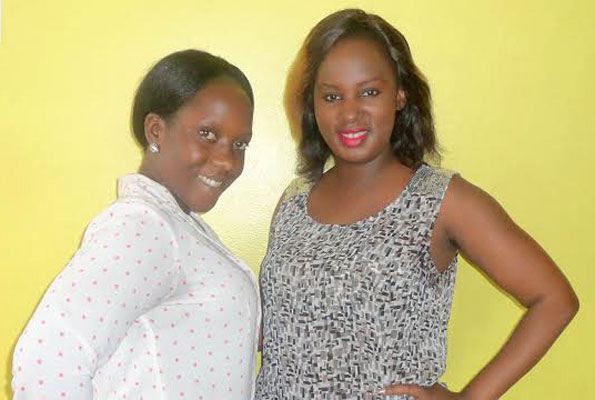 How old are you?
They never ask a woman who has two children her age. I made 16 last week.
Who is the father of your children?
My children are very nice-looking children and I am not about to give you the sperm donor's name.
When did you join radio?
I joined KFM four years ago. I started with D'Mighty Breakfast with Roger Mugisha and Chris Obore but now I do the K-Drive with James Peterson and I love it. It is a gold certified show.
Why did you leave the morning show?
There was a little bit of restructuring and during that time, I was heavy with my late son so it was becoming a little difficult. When I went on maternity leave, I had to be shifted.
What is so special about KFM and the programme you do?
If you have noticed, my programme is different from other evening shows. Let me credit myself; I have changed the face of drive shows: It is spontaneous, full of content, full of humour and relevant topics. One will listen to a relevant topic yet manage to giggle. I am a special monocotyledonous cremator.
What do you love more? Radio or comedy?
Radio got me because of comedy and it has always been my passion.
How do you juggle two jobs and single motherhood?
Well, you know the hustle is real. Of course, comedy alone is not going to look after my children. Monday to Friday I do radio and since my show is in the evening, I have enough time to go for comedy rehearsals and do the main show once a week on Thursdays.
Do you intoxicate yourself before you go on stage?
No. By the way, the nerves come for every performer, regardless of whether you have been on stage 1,000 times.
Who introduced you to comedy?
A friend of mine called Daniel Kiseka, he is now on NTV News Beat. He strongly believed that I had what it took and fortunately when I went to watch the performance, I met Kwezi Kaganda, who was my former teacher at Namasagali College, and Gerald Lutalo, Frobisha Lwanga who went to the same school. It was easier and fun so I decided to join and the next week I was shining.
Some people say you are better than Ann Kansiime. What do you think?
Everybody is entitled to their opinion. People have different tastes and preferences. Whereas some will say I am better, others will say I am not, so those are people's opinions. Ann kills me. She is hilarious and natural.
Can you leave Fun Factory?
You people from the outside call it Fun Factory but to me it has ceased to be that. It is now family. I would never leave my family.
Sorry about your recent accident. Please drive carefully next time I do not want to lose you.
Thank you so much. And let me take this opportunity to collect donations from all my fans. I want to buy a bicycle.