Guys, the end is near. Boda bodas are going to slowly wipe us off the face of the earth, one by one while we just sit and look on. Nobody seems to be bothered by the lawlessness of many of these riders. Our pleas to have these boda bodas regulated in the way they do business seems to have continuously fallen on deaf ears.
They have made Kampala impossible to drive through. Along with their irritating counterparts, the taxis, they have squashed every possible traffic rule ever written in the book and cost us many lives. It's easy to view boda bodas as the necessary evil but at this rate, they are just an evil.
They are getting more unreliable by the day and someone needs to look into this urgently. We can't keep burying our friends every week because of some boda boda insanity. It can't be business as usual everytime such tragedies happen. When will this stop?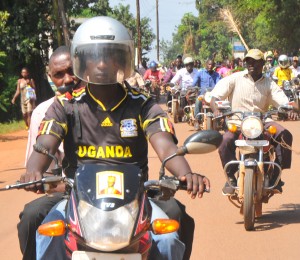 Sadly, we are not about to stop using boda bodas but while we are at it, let's watch out for our safety. You are the number one custodian of your life, meaning that you cannot afford to carelessly hand over your career, hopes and dreams to the mercy of some random chap who also has problems of his own.
That is too generous of you. Take charge of your journey. Let the boda guy know of what you expect of him before you jump on it. There is sense of clarity at the start. His response can peep you in on the kind of person you are dealing with. A stubborn rider is a problem.
Keep your eyes on the road and make sure he is focused on his job. Try not to text on bodas or have earphones plugged in your ears. These can distract you a lot. Also, chill out on that boda boda small talk. Boda chaps like to take you down a long memory lane of their lives. Please, be tough and don't listen in.
Beware of boda bodas that are not at a stage and are just passing through. It is good for a boda rider to have an address, this way there is a sense of reliability. Watch out for those old-looking bikes. They pose a threat. There is no 100 per cent assurance of security but at least there should be some vigilance.
Always remember that you are the 'body' of the boda boda so you have to be alert. Even better, you can have your own boda guy who will take you on all your errands. It won't be about him anymore, but you. Your life will become his responsibility. He will owe it to you.
And guys, avoid taking bodas on long distances. These things of taking a bike from Kampala to Mukono are not practical. The risks are grave.
I know God can call us on anyday, but let's not rush his invitation. Otherwise, may the soul of Doreen Tashobya Tumusiime and other people whose lives were stolen by the sheer carelessness of boda boda riders rest in eternal peace.