Iganga District Police Commander Nassibu Nditta identified the arrested of Byansale Waiswa, Mohamed Kirya and Eriya Mugoya who were picked from a garage in Iganga Municipality for car theft.
local musician Geoffrey Lutaaya and his wife Irene Namatovu were reportedly ambushed last Friday around Kabasanda trading center in Butambala as they travelled back to Kampala.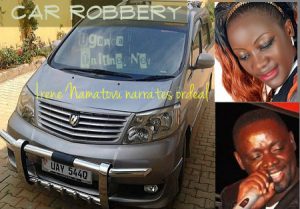 The couple was returning from a music show in Kanoni located in Gomba district.

The Vehicle registration number UAY 455Q, grey in colour, was discovered by police hidden in a garage along the main highway in Iganga municipality yesterday.

The district police commander of Iganga said they received a tip that a vehicle had been brought to the garage by some unknown people .It was followed and a couple of Vehicles were recovered from this Garage.