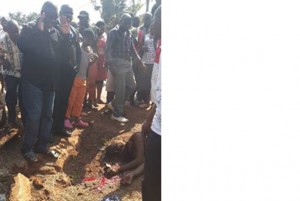 Atleast 7 people are now confirmed to have died following a fatal accident that occured this afternoon at Wakaliga in Nateete, Rubaga Division in Kampala. The accident happened when a trailor rammed into a commuter taxi.
The Officer in Charge of traffic at Lungujja police station Dominique Okello tells KFM that the death toll could rise given the severity of injuries sustained by most of the victims that have been rushed to Mulago hospital.
Mulago hospital spokesperson Enock Kusasira has told KFM that the bodies of the deceased are lying in the mortuary while the seven who are critically injured are receiving treatment.
He says the injured include 2 women and 5 men. The identities of the deceased and the injured are yet to be established.