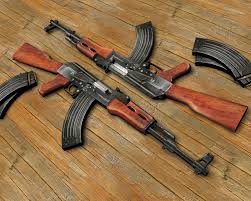 The police in Rwenzori region have so far recovered 13 out the missing 22 guns.
These are believed to have been stolen by the assailants who killed close to 100 people in the three districts of Bundibugyo, Ntoroko, and Kasese last week.
The group attacked residents, police stations and army barracks causing using machetes and sharp knives.
Speaking to KFM, the Western Regional Police Commander Thomas Kasimo said their operations have yielded fruit with 13 guns recovered, but he quickly adds that there is no guarantee that assailants are being disarmed, since they also had their own guns. He however says calm has been restored to a large extent.
Meanwhile registration for national IDs has resumed in the three districts. This follows the alleged tribal clashes that  left over 90 people killed and scores displaced.
The Internal Affairs ministry's spokesperson, Pamela Ankunda says despite the clashes, the equipment used for the exercise was spared. She now urges residents to continue taking part in the exercise.